Breakfast - Lunch - Dinner - Included in the Meal Plan Rate
The most important part – the Restaurant – here you will enjoy a chance to meet some amazing people from all around the world, and make friends for life as we introduce you to the unique communal dining experience. Or if you prefer dining alone, there are also smaller tables available. The below rates include the FJD 25% government taxes.
Adult Daily Meal Plan –FJD$119 pp per day
Child Meal Plan (5 - 12 yrs) – FJD$89 pp per day. Under 5 years are free.
Breakfast includes the freshest in season fruit, toast and preserves, cereals,yogurts, tea ,coffee, fruit juices, and daily baking hot from the oven, along with our ever popular "build your own" omelette station, or eggs anyway you like them. And there are always several hot items on the breakfast buffet if an omelette is not your speed.
Lunch is "a la carte" and could be a fresh salad, one of our famous "burgers", a wrap, or a thai chicken curry, there are always many daily specials. Also available fruit platters, banana smoothies, a cold beer or seasonal seafood specials – the list goes on.
Dinner is "a la carte" 4 nights a week, with the menu changing regularly, it starts with a entree followed by a main course, then dessert, the other three nights are served family style, and one night is our famous BBQ night. We have an extensive menu at Octopus so there's plenty of variety. If you have special dietary requirements please talk to our reservation staff or Resort Manager – we can accommodate all needs in this area.
FRESH LOCAL PRODUCE
Octopus prides itself in using fresh local produce. You won't find chicken nuggets on the menu here! You will find freshly caught seafood, tropical fruits and vegetables and fresh thirst-quenching juices. Most of what we cook is grown locally or caught in the waters around Octopus. We have a wonderful restaurant, its sand floor, open air design and large decks make it the idea place to relax and enjoy our spectacular sunsets.
COCKTAIL HOUR
What tropical island escape would be complete without a cool beer to toast the last few rays of the spectaular sunset and of course a cocktail or three..we have a range of delicious cocktails to tempt your tastebuds….hang out at our super chilled Coconut Bar right on the beach or relax on the main deck at the restaurant and enjoy a cocktail from Bar Sulua. We also have a selection of fantastic wines from around the world – and of course cold Fiji Bitter – actually it's a lager and very nice it is too!
FRESH SPRING WATER
There is a beautiful mountain behind the resort which contains the crystal clear spring water that feeds Octopus and the village. It is the reason that Waya has been settled for thousands of years, even during the last drought Waya Island's water supply never ran dry. The aquifer has been constantly replenished – so even after the last of our grandchildren have disappeared off the face of the earth – Waya Island will still have a supply of fresh mountain spring water. We do drink the fresh mountain springwater that supplies the resort, but if you prefer we have a supply of Fiji Water for sale at the bar.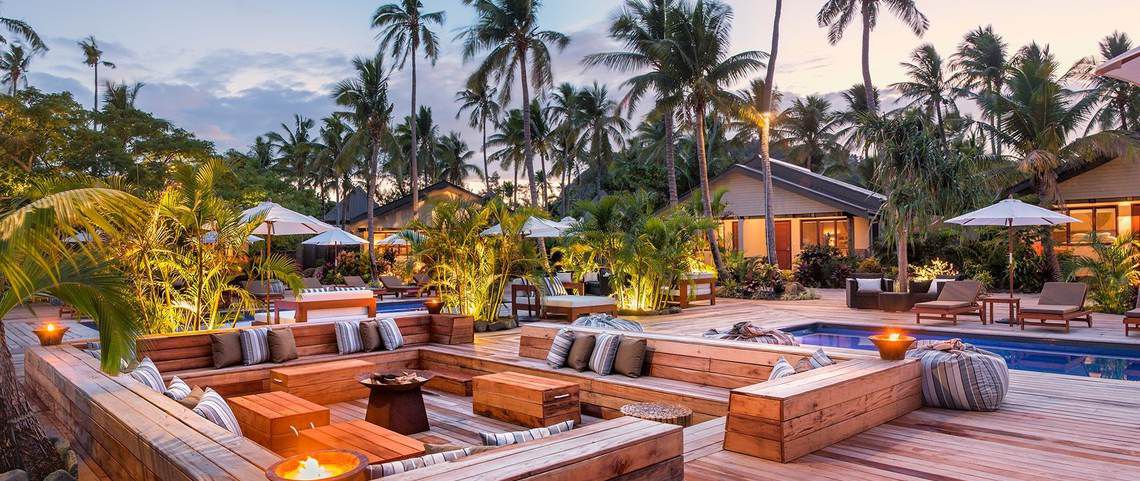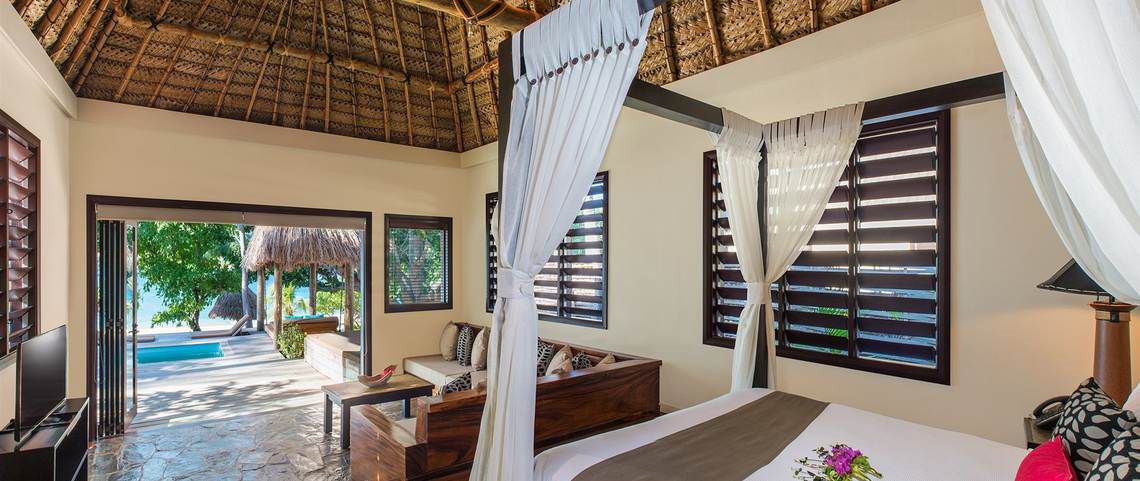 JOES COCKTAIL OF THE MONTH: ELECTRIC OCTOPUS
4 measures of Pineapple Juice
2 shots of Light Rum
1 shot of Blue Curacao
Prepare in Shake
Serve in a cocktail glass
Mix the three ingredients in a glass, then top off the mixture with Lift or another citrus soda. The best rum to use is MALIBU for that tropical taste and fragrance…
Sample Dinner Menus
Starter
sweet potato soup

wok tossed shrimp rice noodle salad with coconut dressing

cabbage wrap with ratatouille of vegetables

kokoda (ko-kon-da) marinated raw fish with aromatic vegetables finished with coconut cream
Main Course
slow braised shank of lamb, grilled seasonal vegetables and potato mash

honey glazed pork cutlet, pickled medley of seasonal vegetables, pineapple and cinnamon sauce, basil & potato hash

pasta with medley of shrimp, reef fish, mussels and calamari tossed with a fresh basil & tomato sauce (also Vegetarian option)

rare seared tuna steak, lemon rice in nori, pickled vegetables, wasabi aioli

eggplant lasagne with a side of garden salad
Dessert
tart of caramelised bananas, lemon custard shortbread with toasted nuts and Fiji vanilla ice-cream

chilled coconut custard, fruit chutney, sugar brittle
Deals
Last Minute Stay and Save Jan and Feb
Stay and Save promo is valid for stays between 15th January and 28th February 2018. Terms and conditions Applicable Stay 5 and Save 20% off room rate ...
2018 Package Deals
Stay 5 + nights in a Premium Garden Bure or higher category, and book one of our packages which include all meals, accommodation and return boat trans...
Subscribe to our Newsletter to stay updated